​General MassiveCraft has a plugin, which allows you to choose a race. Beside choosing a roleplay race you can choose a race with ingame advantages and disadvantages.
You can use the command "/races" for ingame help
---
| Command | Description |
| --- | --- |
| /race be <race name> | This is how you simply choose a race, their is a cool down from switching races of 3 days. |
| /race races | This allows you to see all the races used in our server. |
| /race i <race name> | This gives information on any race you select, such as the advantages and disadvantages |
| /race show | This allows you to see the stats on the race you have chosen or if you have not chosen a race  |
| /race alert <on/off> | Turns the alert system on or off |
Below you will find accounts and excerpts about the various races that populate this wonderous realm. Bear in mind that these snippets of information, gathered from scholars and explorers, though enticing and colourful barely scratch the surface. Who are these people, what traits do they have, what are their shortcomings? See below and be inspired, for each race counts many numbers amongst it, and with numbers come changes from the norm.
When born into this world, new players of MassiveCraft will find themselves raceless by default. When in this state, you will be reminded to choose a race every five minutes.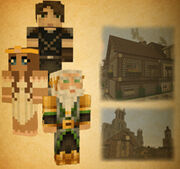 Story:
Humans are the most diverse race in Aloria, but are also capable of creating the greatest chaos and division amongst themselves. Number wise, the humans have the greatest population on Aloria. This is often also their downfall. Petty kingdoms, tribes, clans, empires and holds compete with each other on a daily basis for power. Usually their disputes result in large wars, political intrigue of plain crime and murder. While this creates a very dooming image, it is also important to remember humans are the most pioneering of all races. Humans invented the use of gunpowder both for warfare and recreation as fireworks. Humans also started colonizing other worlds before the other races did. Technically orcs colonized Daendroc before humans did, but they are often discredited because they were merely shipwrecked.
Northern humans are Theodorans. They are famous for stable democratic governments although they also often engage in warfare and raiding.
The humans of Central Ceardia are called Silverons. The Silveons stand for everything decadent and political in humans civilization. Masters of intrigue and political games, they often control the human capital os SilverEdge, and are in charge of the human organizations such as the Redblock expeditions and the religious organizations of Ceardia and beyond.
The Southern humans of Ceardia are called the Matheons. The Matheons are generally the most peaceful humans tending to small communities living together, sometimes at the mercy of the North and Central powers. Most colonial humans are Matheons in search for a better existence. Because of the large colonial population growth recently, the Matheons are by far the largest human culture.

(Dis)advantages:

Humans, when harvesting wheat, have a 20% chance to drop an additional wheat. When cutting wood logs from any tree, humans also have a 10% chance to drop an additional log of that wood. This is to simulate the faster growing population of humans when compared to other races. Humans are the only race that can be infected by vampirism.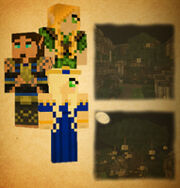 Story:
The Elves of Daendroc were the first non human race discovered in our worlds. Elves are agile people, their skills in archery are unmatched by any other race, but their frail posture is also their weakness.

The first non-human race humans made contact with were the elven people. When Laura Redblock led her group to Daenshore, the elves quickly took notice. At first, the settlers in Daenshore were shunned by the elves. The elves preferring to observe the newcomers to the continent after their century long wars with the invading orcs. Elves resemble tall and fair looking humanoids with often long hair and pointy ears. They often have a calm and peaceful personality, but they are also very much devoted to their own culture and avoid contact with other races.
The Northern Daendroc clans are more druidic and herbalistic in nature. The Northern elves worship the gods of nature, Mielikki and Silvanus. They build tree houses and worship nature while tending to their sacred groves and the animals of the dense forests. These clans are commonly called Loth-al-thaic, but commonly go for Lothar.
The Middle Daendroc clans are more tribal and warlike in nature. Unlike other elves they often have brown hair. It is said by the other elves that they are the product of the invading orcs: elves adapting to counter the orcish invasion by relying more on hunting and war arts. They often despise the other elves for being too lazy and ignorant of the orc threat. These clans are referred to as Vindicata.
The Southern Daendroc clans are more civilized and cultured in nature. These elves engage in poetry, art, writing and philosophy. They are also the only elves to live in stone houses and enjoy the company of humans more. While these elves seem more sophisticated, they are often also more corrupt, decadent or proud then the other elven clans.
Although Elven by blood, the High-Elves consider themselves "too sophisticated" to be living in trees and playing with plants. High-Elves tend to be more racist towards the other races then the elves of the Northern, Southern and even Middle clans. The High-Elves specialize in potions that harm, rather than heal making them prized within the Elven Armies. The Potion of Harming is one of the most dangerous potions created by the High-Elves. They prefer their homes to be simple, yet elegant.
(Dis)advantages:

Elves are immune the effects of vampirism. With their keen senses and eyes, they can wield a bow better then any other race. They deal +15% more damage with bow.
Home:
Daendroc
, Elven District in
Regalia
City.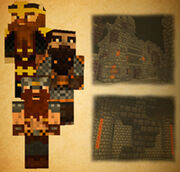 Story:
The Dwarves of Ellador are legendary miners and axe warriors, but their posture makes them nearly unable to wield a bow. They were the second non human race discovered in our worlds. It took a very long time before the dwarves were actually found. They held themselves hidden underground and in their hidden fortresses.
(Dis)advantages:

Dwarves are immune against vampirism.
They deal +15% more damage with axe.
Home:
Ellador
Story:
The orcs of Daendroc are a violent race of green or gray, skinned beings that live in tribal societies and often wage wars on other races, as well as themselves.

(Dis)advantages:

Orcs are immune against vampirism.
They deal +7% more damage with sword, axe and unarmed attacks.
Home:
Daendroc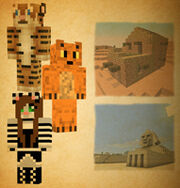 Story:
Tigrans are a rare race of feline like beings. They resemble human like cat people, although the degree in which they resemble cats differs per clan.

(Dis)advantages:

Tigrans are immune against vampirism.
They deal +15% more damage with fist.
Home:
Daendroc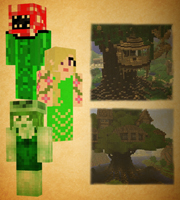 Story:
The yanar are a collection of plantlike sentients and also forest beings that live near or live together with the plant beings.

(Dis)advantages:

Yanar are immune against vampirism.
Yanar are able to heal player by hitting them with a red flower.
Home:
Daendroc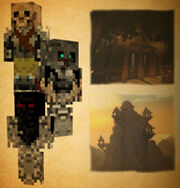 Story:
The Undead scourge that plagues Ceardia has recently taken an interesting turn, from a scientific point of view. Some of the Undead seem to have gained some sort of understanding of their fate and their situation, and have developed whole societies.

(Dis)advantages:

Undead are immune against vampirism.
They take -20% less damage from sword, axe, fist and bow.
Home:
Ceardia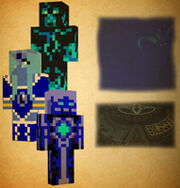 Story:
Unknown ..

(Dis)advantages:

Maiar are immune against vampirism.
They are able to breathe under water and swim faster.
Their foodlevel is increased in water/rain and is unaffected by the movement or food but will decrease otherwise.
They take much more damage from fire and lava. It is their big weakness.
Home:
Hadar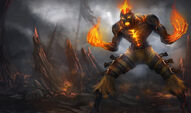 Story:
The world of Gana-Isha never was only the home for creatures with no brain, also a humanoid form, the Agni named it their home.

(Dis)advantages:

The Agni are immune against vampirism.
They regain health in lava.
They are able to swim in lava very fast and don't take damage from fire/lava.
They are truced with Ghasts.
They take direct damage in rain and water.
Their hunger bar never goes down and eating food has no effect.
Home:
Gana-Isha
Story:

The Vespids are a collection of inverterbrates, exoskeleton and arthropod species. As such, they are the most diverse race to live on Aloria.
(Dis)advantages:
Vespids.

Added by

Zanip

The Vespids are immune to vampirism.
Spiders will not attack unless attacked.
Swarm Ferocity: Close combat damage dealt increases with 3% for every vespid within a radius of 35 blocks. This damage bonus caps at 30%.
Home: Hadar
Story:

The Naga are a collection of reptilian, lizard and amphibian humanoid races. They are true to their natural habitat, Hadar.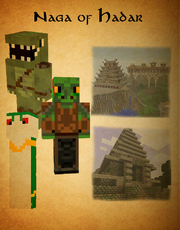 (Dis)advantages:
The Naga are immune to poison.
They are immune to vampirism.
Home:
Hadar
Laura Redblock was able to get to know all races. She had the time to write a book with some detailed information about the races: Redblock's Encyclopedia Volumen 1 - Races
This wiki has a special side for MassiveCraft Skins, interested?
Roleplay skins are available for dwarves and elves: http://www.mediafire.com/?tx8mlba4jpooslu,w1t0yeadeo4hry2