Description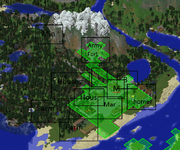 Mathisport is a thriving riverside town in Ellador. It is ruled over by King kungfuu_pacman and has a nice active community. Ranking up is done through through guilds which allow members to help Mathisport prosper.
Beggining
Kungfuu_Pacman grew up in a distant land where the common peasants were treated poorly, there lives doomed to be short and wearisome. He dreamed of a land of oppertunity where anybody could rise up due to there talents. So one night he snuck out of the land pretending to be a seafarring merchant. The ship was caught in a storm at sea and turned to kindling, yet somehow he survived, washing up on a strage island. On this island he craeted Mathsport a land where any person can rise to greatness.
Guilds
The current guilds are:
The Builders Guild
The Merchants Guild
Joining
To join message kungfuu_pacman or a recruiter requesting an invite. Current recruiters; cjwilson.
Once you have joined you will be given a plot of land to build a house on.
After you are set up join some guilds and have fun.
Ad blocker interference detected!
Wikia is a free-to-use site that makes money from advertising. We have a modified experience for viewers using ad blockers

Wikia is not accessible if you've made further modifications. Remove the custom ad blocker rule(s) and the page will load as expected.