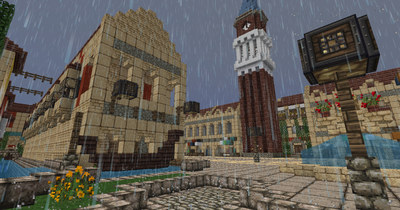 Write the first paragraph of your page here.
Concept
If the waterways and streets of New Helvetica are its arteries, the Grand Piazza is most certainly its heart; a heart that beats with the sights, smells and noise of Helvetican citizens and foreign traders, local street vendors and tradesmen, builders and architects, warriors and heroes. Here in Helvetica all races are welcome; no-one is discriminated in the city which was built on multiculturalism. As the merchants' guild unofficial motto goes; "visitors should only be judged by their coin". However this shouldn't put off the budding yet penniless entrepreneur; the merchants' guild will help anyone who wishes to set up a business provided they abide by the market's rules.
As for the building itself this central plaza was built specifically as a central meeting point for all Helveticans and foreign merchants as a place to buy and sell goods. The structure, made up of two separate wings, has two floors and accommodates a wide variety of different shops. While directions can be given by locals and other traders the best way to find your way around is to explore for yourself! Take some time to wander the corridors and see what there is to be discovered in this unique piece of architecture. 
Another feature of the piazza is the great clock tower which looks over the square; visible from almost every part of the city, this instantly recognisable landmark is a monument to how Helvetica's only limit is the sky itself.
The great advantage of this market over Regalia's is the ability to form trade agreements, find better than market prices and the ability to use trade as a diplomatic tool. In our trade centre merchants and buyers meet and chat regularly, providing a far friendlier and interactive environment compared to the cold facelessness of Regalia.­­­­­­
Market Participants
Participating merchants of the Piazza come from all walks of life as well as from varied and colourful backgrounds. The administrating merchant body has not been known to discriminate against any individual races. In the Piazza an individual is "judged by the colour of his coin".
Merchants and Tradesmen include:
Film_Noir - A quiet and reserved merchant, Film_Noir is one of the tradesmen who operates in Piazza as an individual. Having a standing contract with Helvetica's Doges he is the sole provider of clay materials, a building material in high demand amongst Helvetican architects.
Madam Bim - A somewhat secluded individual, Madam Bim is the owner of one of the eco-stores on the Piazza. Trading in mushrooms and apples, this merchant woman makes available the goods that the earth provide. Rumour has it that Madam Bim must be of maiar decent, for her somewhat passionate defence of all things natural and green borders on fanaticism.
Ad blocker interference detected!
Wikia is a free-to-use site that makes money from advertising. We have a modified experience for viewers using ad blockers

Wikia is not accessible if you've made further modifications. Remove the custom ad blocker rule(s) and the page will load as expected.