Events
You like role-play, then you like events too. This category will contain all events (server based and player based). There are server events, where all characters can join in, and player event, where only some people are invited.
The great main events starts around 7 to 9 o'clock. (Central Time / GMT)
Server Events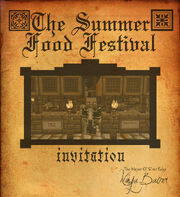 There were some events in the past i.e. the clukky balloon, which won't be started anymore. Other events like Igel's Treasure Hunt will be started constantly. Some of the events will be started in-game without any previous invitation on the website of MassiveCraft, please don't complain about this.
Active Events
Fight Event
Release Parties (releasing a new world/arena/location/etc. )
Fishing Event
Archived Events
Player Events
You are good at redstone and built a great dungeon? You have a quest, which can be started with other players?
Then please enter your event/dungeon here as the example:
---
The Lost Ring (Example)
Title: The Lost Ring; Ingame-Name: Mark007; Plot: Try to find a ring in a temple with an old scroll.
---
Ad blocker interference detected!
Wikia is a free-to-use site that makes money from advertising. We have a modified experience for viewers using ad blockers

Wikia is not accessible if you've made further modifications. Remove the custom ad blocker rule(s) and the page will load as expected.