Book Source Bookstore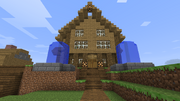 Book Source is a bookstore located in Daendroc, just outside the border of Daenshore. At Book Source, you can purchase new books for the cheapest prices around! If you would like to make a purchase at Book Source, head to our store, choose the book you want, and message one of our booksellers. Our booksellers are currently Wizered67, Ben_2025, and User777111.
Books Sold At Book Source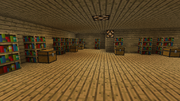 Currently, the following books are for sale, although we expect to get many more books soon.
"The Drunken King" by Superslash89, a short poem about a drunken king and what his townspeople do about him. Part 1 of 2. Available for 3 silver.
"Situations Arise" by Wizered67, a 30 page action story based on his experiences leading SouthPoint. The intense fight depicted in this book is sure to please all readers looking for an action story. Available for 9 silver.
"Vampire Guide" by User777111, a complete guide to vampires, including information on how to become one, how to kill one, how to live as one, and much more! Perfect for new players. Available for 6 silver.
How to Get Your Book Sold At Book Source
To have your book sold at our store, simply contact Wizered67 and give him your book. We will discuss our sales policies with you and how you can make money by having your book sold here.
Pictures of the Store
Ad blocker interference detected!
Wikia is a free-to-use site that makes money from advertising. We have a modified experience for viewers using ad blockers

Wikia is not accessible if you've made further modifications. Remove the custom ad blocker rule(s) and the page will load as expected.